Week 33, I made it! AND I think if I get it posted tonight it's still within the "official" week for #CatchTheMoment365!  Yay me!
This week included the funeral of my Grandma.  It was a sad time of mourning, but also a fun and exciting time to reconnect with family I don't see very often.  Flying out on Wednesday I never would have expected that this turned into a great trip with lots of wonderful memories.
One of the most memorable parts of the trip is when we headed back to the family farm to celebrate my Grandma's amazing life!  I have blogged about the farm in the past and how it's been in my mom's family for nearly 100 years, but if you missed it you can read and see pictures of the inside of the farm HERE and the outside of the farm HERE!
The end of this post includes a massive mailing I assisted with at work.  Our new Communications Specialist, Stephanie, redesigned the quarterly Eastside Baby Corner print newsletter and it turned out fantastic!  Not only is it gorgeous, but it brings a new level of professionalism to EBC.  Everyone I have talked to is absolutely blown away by the new look!  If you are interested in learning more about Eastside Baby Corner and want to check-out Eastside Baby Corner's 2014 Summer newsletter click HERE!
This week was a great one!
For more information on this project please visit one of the hosts by clicking the badge below!  Feel free to come join us and our 365 day journey behind the camera lens!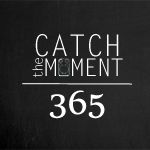 with Mindi at Simply Stavish, Sarah at Nurse Loves Farmer, and Stephanie at Behind the Camera and Dreaming.
How does this work?  Everyday I am posting a new pic to Instagram, Twitter and my personal Facebook page with the hash tags #365DaysofCori and the official challenge hash tag #catchthemoment365.  On Friday's I will do a recap of the previous week's photos and *hopefully* give a little more insight into each one, why I took them and any history behind them.