What do you know, it's already January 13th (Happy Birthday Brandi).  I started out the year blogging strong, well I blogged on day 2, but nothing since.  That's kind of how life has gone for me in general.  I figured that once the hustle and bustle of the holidays were over I'd get a break and reprieve before life got crazy again.  Not so much.  2015 came roaring in past 2014.
*Sigh*
With that being said, I'm still behind on last year's photo challenge.  I am proud to say that I took a photo every day for 365 days, the blogging is what is slightly behind!  This week's photos are from Week 50 of 2014, December 12 – 18th.  This was my final week of work before getting some time off for the holidays and working from home.
For more information on this project please visit one of the hosts by clicking the badge below!  Feel free to come join us and our 365 day journey behind the camera lens!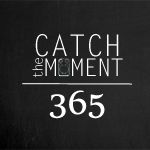 with Mindi at Simply Stavish, Sarah at Nurse Loves Farmer, and Stephanie at Behind the Camera and Dreaming.
How does this work?  Everyday I am posting a new pic to Instagram, Twitter and my personal Facebook page with the hash tags #365DaysofCori and the official challenge hash tag #catchthemoment365.  On Friday's I will do a recap of the previous week's photos and *hopefully* give a little more insight into each one, why I took them and any history behind them.