Checkout that date. December 4, 2014. D.E.C.E.M.B.E.R. The 12th Month of the Year.
I love December, it's the best month of the year, well after August!  I love all the decorations, festivities, time with friends & family, music, remembering Christ, and the presents aren't that bad either! But before that I have a crazy December ahead of me.
I will be working 60+ hour weeks for the next couple during the busiest time of the year at Eastside Baby Corner.  One of my biggest jobs is coordinating collection drives and 80% of them care delivered in December.  Actually let me rephrase that, 80% of them come in on one day and this year that date is December 18th, the last day we accept donations for 2014.  On top of that we have to do a full inventory of our 8,000 +/- square foot warehouse which always brings out the best in me.  And this year I'm helping the local food bank during their holiday giving program.  Work during December is going to be insane, but before I know it it will be gone, Christmas will be over and we will be waking up in 2015 and that is crazy talk!
For more information on this project please visit one of the hosts by clicking the badge below!  Feel free to come join us and our 365 day journey behind the camera lens!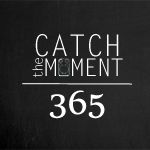 with Mindi at Simply Stavish, Sarah at Nurse Loves Farmer, and Stephanie at Behind the Camera and Dreaming.
How does this work?  Everyday I am posting a new pic to Instagram, Twitter and my personal Facebook page with the hash tags #365DaysofCori and the official challenge hash tag #catchthemoment365.  On Friday's I will do a recap of the previous week's photos and *hopefully* give a little more insight into each one, why I took them and any history behind them.