Whoa, look that's two posts in two days.  Something must be terribly wrong with me!  No, more like tomorrow is December 31st and I'm three weeks behind on posting my Catch the Moment photos to the blog.  I had hope to get all caught up, but it just never happened.  The good news is the last three weeks won't be far behind!
Week 49 contained a lot of Christmas from movies, looking at Christmas lights, putting up the tree and helping at a holiday gift program that allowed parents in need to pick out new gifts for the kids.  It was truly a magical week!
Oh, and make sure you stop by tomorrow to see my 2014 in Review post!  Yes, that will make it three days in a row, maybe even one on January 1st!  Look out!
For more information on this project please visit one of the hosts by clicking the badge below!  Feel free to come join us and our 365 day journey behind the camera lens!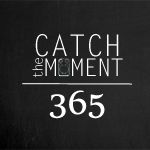 with Mindi at Simply Stavish, Sarah at Nurse Loves Farmer, and Stephanie at Behind the Camera and Dreaming.
How does this work?  Everyday I am posting a new pic to Instagram, Twitter and my personal Facebook page with the hash tags #365DaysofCori and the official challenge hash tag #catchthemoment365.  On Friday's I will do a recap of the previous week's photos and *hopefully* give a little more insight into each one, why I took them and any history behind them.