Oh my, December 29th, how can that be?  How has it been nearly a month since I posted my Week 47 photos?  Oh wait, one word. Christmas.
Like always Christmas came in like a whirlwind leaving destruction of family, presents, food, wrapping paper and overall mess in her path.
That's how it's been 25 days since my last post.
Well, actually I can't blame it all on Christmas, the other factor was work.  Between December 8 and 19th, I worked way to many hours to count between helping the Issaquah Food & Clothing Bank with their Holiday Gift Barn program and Eastside Baby Corner's dreaded End of Year Inventory, I worked a lot.  The minute I was done with that it was Christmas.
I don't think I've had a second to myself in four weeks.  December will do that to you!  But here was are December 29th, 2014, just 3 days before 2015.  That is crazy.  2015. Mindboggling.
But, before I can make it to 2015, I have some Catch the Moment 365 photos to catch-up on and this post takes us back to the end of November – early December!
Oh and a quick note, on my Wednesday, December 3rd post below I include the link to a Komo News story on Rick Rizzs' Toys for Kids' program and how Eastside Baby Corner benefited as a non-profit partner!  Watch the story and see how cool it was to be given $5,000 to shop at Toys 'R Us for kids in need!  Click HERE or on the photo below to watch the story.
For more information on this project please visit one of the hosts by clicking the badge below!  Feel free to come join us and our 365 day journey behind the camera lens!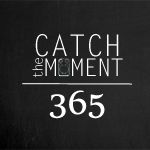 with Mindi at Simply Stavish, Sarah at Nurse Loves Farmer, and Stephanie at Behind the Camera and Dreaming.
How does this work?  Everyday I am posting a new pic to Instagram, Twitter and my personal Facebook page with the hash tags #365DaysofCori and the official challenge hash tag #catchthemoment365.  On Friday's I will do a recap of the previous week's photos and *hopefully* give a little more insight into each one, why I took them and any history behind them.