Hey look, two #CatchTheMoment 365 posts in 48 hours! I told you I was determined to get caught up!  The positive is I am almost caught up (just need to post the current week's post up), the downside is nothing new has happened to chat about here
Lucky for you, my big mouth doesn't have much to say tonight! Oooohhhh, actually one cool thing that happened this week – we hit day 300 in this challenge!  Yes, day 300!  Take that Kim Alvarado, I made it to day 300!
Here's what week 43 looked like in my life ….
For more information on this project please visit one of the hosts by clicking the badge below!  Feel free to come join us and our 365 day journey behind the camera lens!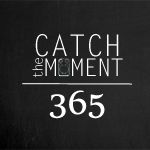 with Mindi at Simply Stavish, Sarah at Nurse Loves Farmer, and Stephanie at Behind the Camera and Dreaming.
How does this work?  Everyday I am posting a new pic to Instagram, Twitter and my personal Facebook page with the hash tags #365DaysofCori and the official challenge hash tag #catchthemoment365.  On Friday's I will do a recap of the previous week's photos and *hopefully* give a little more insight into each one, why I took them and any history behind them.