After being out of power for nearly 36 hours, I am happy to be back online and continuing to catch-up with my Catch the Moment | 365 posts!
On Saturday evening a windstorm whipped through Seattle.  It wasn't that powerful of a storm, but because it was the first of the season and came with a huge rainy punch, it took down trees, scattered leaves and knocked out power to more than 160,000 homes.
Even though we were without power for 36 hours, life wasn't that horrible and I really can't complain.  With church cancelled, I spent the day crocheting and listening to a lot of Sunday football!  I felt lucky that we were one of the few homes with a wired in generator, so we had lights, heat (though we didn't turn it on because it was so warm out), outlets to charge phones, iPads and laptops and the radio!
I had grand plans of getting this post up over the weekend, but the lack of power and internet made that goal hard to achieve!  So this post is a little later than I had planned, but it's up and I'm once again just one week behind.  Maybe by this weekend I'll be completely caught up…..I can dream right?
For more information on this project please visit one of the hosts by clicking the badge below!  Feel free to come join us and our 365 day journey behind the camera lens!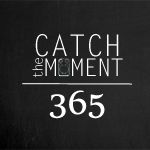 with Mindi at Simply Stavish, Sarah at Nurse Loves Farmer, and Stephanie at Behind the Camera and Dreaming.
How does this work?  Everyday I am posting a new pic to Instagram, Twitter and my personal Facebook page with the hash tags #365DaysofCori and the official challenge hash tag #catchthemoment365.  On Friday's I will do a recap of the previous week's photos and *hopefully* give a little more insight into each one, why I took them and any history behind them.