Look at me, two posts written in back-to-back nights!  It's so nice to have some free me time after nearly two months of constant work events that took up several nights each week and often weekends too!  Watch out, soon I'll be caught up!
Week 40 brought me to the week of the Diaper Banks in America annual conference in Kansas City, Missouri where I would present on social media.  Unfortunately, before I could go I caught a cold and had a big event to put on.  Week 40 was a very busy one for me!
For more information on this project please visit one of the hosts by clicking the badge below!  Feel free to come join us and our 365 day journey behind the camera lens!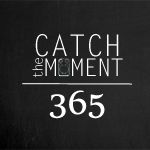 with Mindi at Simply Stavish, Sarah at Nurse Loves Farmer, and Stephanie at Behind the Camera and Dreaming.
How does this work?  Everyday I am posting a new pic to Instagram, Twitter and my personal Facebook page with the hash tags #365DaysofCori and the official challenge hash tag #catchthemoment365.  On Friday's I will do a recap of the previous week's photos and *hopefully* give a little more insight into each one, why I took them and any history behind them.