I'm slowly catching up with the #CatchTheMoment365 weekly blog posts as I post Week 32 tonight.  My goal is to be caught up next weekend and post Week 34 during Week 34!  What a concept!  Stay tuned for Week 33 to be posted early next week!  In the meantime, Week 32:
This week involved a lot of car trouble for Brandi, maybe car trouble isn't the right term, extremely bad luck might be better!  First her car is t-boned, then she has to deal with the other driver's idiotic insurance company, she borrows my Grandma's car and it completely dies on her and when the car is fixed (in record time I might add!) the mechanic locks the keys in the car.  It was a bad week for Brandi; the bright side of the story is she got a new car!
The other top story of Week 32 was heading down to Salt Lake City for my Grandma's funeral.  This post covers the first couple of days of our trip including the stressful trip down, but then some fun family time!
Week 32 was definitely a memorable one for me!
Psst…tomorrow is my birthday!!  I'm so excited!!
For more information on this project please visit one of the hosts by clicking the badge below!  Feel free to come join us and our 365 day journey behind the camera lens!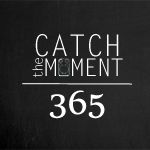 with Mindi at Simply Stavish, Sarah at Nurse Loves Farmer, and Stephanie at Behind the Camera and Dreaming.
How does this work?  Everyday I am posting a new pic to Instagram, Twitter and my personal Facebook page with the hash tags #365DaysofCori and the official challenge hash tag #catchthemoment365.  On Friday's I will do a recap of the previous week's photos and *hopefully* give a little more insight into each one, why I took them and any history behind them.