The last two weeks have been a whirlwind for me and my blogging took a backseat.  My Grandma passed away on August 7th after a long and courageous battle with cancer, leaving behind an amazing legacy and memories.
With the passing of my Grandma, an unexpected trip to Salt Lake City and her funeral, Week 31 never got written or published, actually at this point I'm late with Week 32 as well.  Family is much more important than my blog, but while I am delayed publishing Week 31 and 32, I didn't miss a day of photos.  Stay tuned over the next couple of days for another catch-up post plus Week 33.
For more information on this project please visit one of the hosts by clicking the badge below!  Feel free to come join us and our 365 day journey behind the camera lens!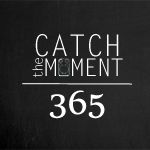 with Mindi at Simply Stavish, Sarah at Nurse Loves Farmer, and Stephanie at Behind the Camera and Dreaming.
How does this work?  Everyday I am posting a new pic to Instagram, Twitter and my personal Facebook page with the hash tags #365DaysofCori and the official challenge hash tag #catchthemoment365.  On Friday's I will do a recap of the previous week's photos and *hopefully* give a little more insight into each one, why I took them and any history behind them.