Week 30.
Did you see that?!
Week 30.
How are we already through 30 weeks of 2014 and this week's photos bring us to the end of July.  2014 is flying by.
The highlight this week was Mason turned one year old.  You may think it's crazy that 2014 is flying by, but what's even crazier is this little cutie is one.  Time definitely flies, and in the case of Mason really needs to slow down!
Mason was definitely the highlight of this week and the rest of the week was, well, pretty boring and uneventful!  I bet you can't even tell which day(s) I waited until 11pm to take a photo!
For more information on this project please visit one of the hosts by clicking the badge below!  Feel free to come join us and our 365 day journey behind the camera lens!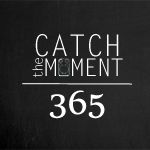 with Mindi at Simply Stavish, Sarah at Nurse Loves Farmer, and Stephanie at Behind the Camera and Dreaming.
How does this work?  Everyday I am posting a new pic to Instagram, Twitter and my personal Facebook page with the hash tags #365DaysofCori and the official challenge hash tag #catchthemoment365.  On Friday's I will do a recap of the previous week's photos and *hopefully* give a little more insight into each one, why I took them and any history behind them.