Ugh, I'm late again this week in my #CatchTheMoment365 post.  I think I used this excuse last week, but once again I'm enjoying the summer way to much to be inside blogging.  Fall will be here before I know it and I'll have plenty of time to blog then!
Week 29 consisted of Baby Mason and Baseball, two of my favorite things in the whole entire world.  Week 29 was a great week for me….well until the end of the week then it was downhill.
For more information on this project please visit one of the hosts by clicking the badge below!  Feel free to come join us and our 365 day journey behind the camera lens!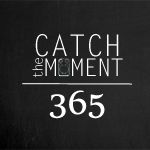 with Mindi at Simply Stavish, Sarah at Nurse Loves Farmer, and Stephanie at Behind the Camera and Dreaming.
How does this work?  Everyday I am posting a new pic to Instagram, Twitter and my personal Facebook page with the hash tags #365DaysofCori and the official challenge hash tag #catchthemoment365.  On Friday's I will do a recap of the previous week's photos and *hopefully* give a little more insight into each one, why I took them and any history behind them.