Wow last week finally brought a vacation and a chance to getaway for the long holiday weekend!
Brandi, Alex and I went to Las Vegas for some R&R, sightseeing and to visit our Stewart cousins!  The weather was wonderful, well minus the fact it rained every night, the sights were amazing, and we must have walked a million miles!  Speaking of miles, I wouldn't know exactly how many miles I walked because on Saturday I forgot to put my Fitbit back on after we swam.  Brandi remembered hers and ended up walking over 17,000 miles that day, which would have been close to a record for me.  Granted I could just add the hours to my numbers, but none of my friends would ever believe me because it wasn't legitimately recorded on my Fitbit profile.  Annoying….a week later and I'm still complaining about it!
Other than my Fitbit fiasco Las Vegas was a blast and I have more photos to share in coming posts, but for now here's what my week 27 looked like!
For more information on this project please visit one of the hosts by clicking the badge below!  Feel free to come and join us and our 365 day journey behind the camera lens!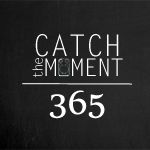 with Mindi at Simply Stavish, Sarah at Nurse Loves Farmer, and Stephanie at Behind the Camera and Dreaming.
How does this work?  Everyday I am posting a new pic to Instagram, Twitter and my personal Facebook page with the hash tags #365DaysofCori and the official challenge hash tag #catchthemoment365.  On Friday's I will do a recap of the previous week's photos and *hopefully* give a little more insight into each one, why I took them and any history behind them.