This was one week I wouldn't mind forgetting.  It seems like I spent the entire week sick.  Boo.  But on the positive it is a holiday weekend and I'm going with Brandi and the girls to visit our Grandma in Eastern Washing for the long weekend!  They are picking me early from work tomorrow and we will be gone until Monday afternoon!
I'm excited to get away for a couple of days.  Plus I haven't seen my Grandma in three weeks and I think that's the longest I've ever been away from her in my life!  Not to mention the last time Emmalee was in Kennewick she was only a few weeks old and now is 5-1/2!  Maddie has gone a few times since then, but it's still been about four years for her!  Time flies!
YAY for families and long weekends!
Hope you all had a better week than I did and have fantastic plans for your Memorial Day weekend!
For more information on this project please visit one of the hosts by clicking the badge below!  Feel free to come and join us and our 365 day journey behind the camera lens!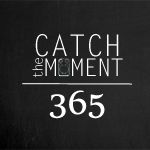 with Mindi at Simply Stavish, Sarah at Nurse Loves Farmer, and Stephanie at Behind the Camera and Dreaming.
How does this work?  Everyday I am posting a new pic to Instagram, Twitter and my personal Facebook page with the hash tags #365DaysofCori and the official challenge hash tag #catchthemoment365.  On Friday's I will do a recap of the previous week's photos and *hopefully* give a little more insight into each one, why I took them and any history behind them.
Happy Friday!