This week was full of a lot of emotions: sadness, excitement, patriotism, thankfulness, embarrassment, silliness and a lot more.  I had a busy, busy week and am exhausted just thinking back on it, well that and still sore from a lot of physical labor!  However, it's one that came with a lot of memories, ones that I wouldn't trade for the world!
The year is just flying by as it's already May 9th and we are 129 days into the year…time needs to slow down!
For more information on this project please visit one of the hosts by clicking the badge below!  Feel free to come and join us and our 365 day journey behind the camera lens!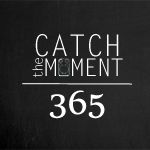 with Mindi at Simply Stavish, Sarah at Nurse Loves Farmer, and Stephanie at Behind the Camera and Dreaming.
How does this work?  Everyday I am posting a new pic to Instagram, Twitter and my personal Facebook page with the hash tags #365DaysofCori and the official challenge hash tag #catchthemoment365.  On Friday's I will do a recap of the previous week's photos and *hopefully* give a little more insight into each one, why I took them and any history behind them.
Happy Friday!