I'm the first person to admit that my thirteenth week of 2014 was pretty dull.
I had three highlights, one being submitting a proposal to speak at a national conference in the fall, getting to spend sometime with the adorable Mason, and then when "my" first triplets turned fifteen.  Other than those couple of pictures, the rest of the week was pretty much a dud.
I'm looking forward to week 14 and hopefully some more enthusiasm and excitement!  This next week I will hit day 100 of the photo challenge and I have not missed a day yet!  Granted some photos are much better than others, but I'm still at it!
For more information on this project please visit one of the hosts mentioned above or click the badge below!  Feel free to come and join us and our 365 day journey behind the camera lens!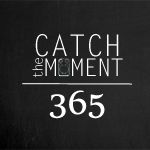 with Mindi at Simply Stavish, Sarah at Nurse Loves Farmer, and Stephanie at Behind the Camera and Dreaming.
How does this work?  Everyday I am posting a new pic to Instagram, Twitter and my personal Facebook page with the hash tags #365DaysofCori and the official challenge hash tag #catchthemoment365.  On Friday's I will do a recap of the previous week's photos and *hopefully* give a little more insight into the photos, why I took them and any history behind them.
Happy Friday!