WOW this week just flew by!  Bring on the weekend!  Don't get me wrong I love work and really love fast weeks, but who doesn't look forward to the weekend?  Week 9 may have been fast, but I still made sure to get a photo-a-day and AMAZINGLY I have yet to miss a day yet!  Today marked day #65! I can honestly say when I first committed to this challenge I didn't think I'd be able to do it, but so far so good!
For more information on this project please visit one of the hosts mentioned above or click the badge below!  Feel free to come and join us and our 365 day journey behind the camera lens!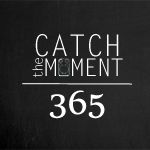 with Mindy at Simply Stavish, Sarah at Nurse Loves Farmer, and Stephanie at Behind the Camera and Dreaming.
How does this work?  Everyday I am posting a new pic to Instagram, Twitter and my personal Facebook page with the hash tags #365DaysofCori and the official challenge hash tag #catchthemoment365.  On Friday's I will do a recap of the previous week's photos and *hopefully* give a little more insight into the photos, why I took them and any history behind them.
Happy Friday!