I'm not a New Years resolution kind of girl.  I have no follow through and I accept that about myself! However, a blogging buddy, Mindy at Simply Stavish, shared a statistic on resolutions that really got me thinking…
According to the statistic brain it is estimated that 45% of American's make resolutions, yet only 8% reach their goals.
When I read that statistic my competitive side came bounding out.  I am ALWAYS ready to compete in anything; any chance I get to beat someone, I'm in.  I joke that my personal hashtag should be #LifesACompetion because I literally turn everything into one!  And the competition that came bounding out at me was how I would NOT fall into the 37% category who quit, give up, forget, blah blah blah because those people aren't winners of resolutions.  No that wouldn't be me, I won't let that happen, I am going to be one of the elite 8% who "wins" their resolution, I will not lose this challenge (Even if my friend Kim Alvarado is CERTAIN I will fail at this..I will show her!).  Now I just needed a resolution……
As I wrote my 2013 Blog in Review post and while scouring my blog for special moments of Emmalee's life I captured and now could share with her, I began to realize all the events that I never blogged about last year.  The new jobs, new baby, my new car, Kelly returning from France, summers hanging out at the beach or at my grandma's house…the important moments I want to remember.  I was stuck with the excuses "I'm to tired to blog" or "nothing blog worthy happened today" or "nobody reads it so why should I waste the time?"  But now I could kick myself for not documenting them.  Which got me to thinking about why I started my blog 5-1/2 years ago…as a personal account of my life.  No matter how mundane life might have been or seemed it still was my life and I don't want to forget it.  I want to be able to look back on January 1, 2015 and see my year in one spot.  A snapshot of a year in my life.
For the first time in my life I have made a resolution to
post more blog entries in 2014. 
But, I am reasonable and know how lazy I was during the last 12 months (I blogged only 48 times ALL YEAR) and seeing how far I've fallen after many years averaging 220 posts per year I have a long way to go to get back up to my old habits.  So this resolution is going to happen in baby steps. I am the type of person who thrives on checklists and schedules; I know the only way I could achieve that HUGE resolution was to break it down into more measurable and accountable goals.
I have chosen to participate in two separate "stepping stones" this year to assist me with achieving 8% status success!
———>> #1. I joined the Catch the Moment | 365 year long photo challenge hosted by Mindy at Simply Stavish, Sarah at Nurse Loves Farmer, and Stephanie at Behind the Camera and Dreaming.  Every day in 2014, I will be capturing a moment, in time, in my life with my camera.  I'm hoping to get my real camera (Nikon D5000) out more often this year, but I'm okay with pictures taken on my phone too.  The goal is to capture a shot every day during 2014 and that's what I am going to commit to and will follow through, through these two means:
On Friday's

I will spotlight all the previous weeks' photos

on my blog

in one spot. 

Ultimately I would love to give a recap of the pictures, but I'm not committing to that, my goal is to get more posts up on my blog and get back into the habit of posting.   Any additional information shared (and I'm sure most of the time there will be tidbits of jewels thrown in, but if so that's the icing on the cake!)  Remember…baby steps!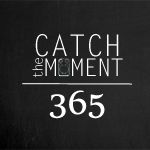 ———>>#2. For Christmas I got a FitBit and have become extremely obsessed with how many steps I take in a day, miles I walk, calories burned, etc.  If you haven't heard of the FitBit before, you need to check it out! It is a fun pedometer that you can connect up with your friends and try to "outstep" them in your day to day life.  Remember I am a competitor at heart and this is right up my alley!  I'm already wanting to buy one for my cousin and my boss so the three of us can race.  Competitive is my middle name!  My goal is to wear my FitBit every.single.day for the same 365 days of the Catch the Moment | 365 photo challenge and YOU can help!
Daily

my results will post

to

Twitter

so make sure you're

following me

to confirm I did it!

On my Monday's

I will blog and share my progress from the previous week

and any fun new achievements earned throughout!

Do YOU have a FitBit?  CLICK HERE to add me as a friend

or

 leave a comment below with your email address and I can send you a request.  I'm always looking for new people to out-step!
Okay for my New Years resolution to blog more this year I am committing to blogging at least twice a week during 2014:
 Once a week (generally Friday's) for the Catch the Moment | 365 challenge
Once a week (generally Monday's) for my FitBit check-ins. 
I think those are good starts and I am hoping to fill in some other posts here and there along the way!  So here I go!
I hope you all have a wonderful weekend and I'll see you back here on Monday!