How is already the last day of January?  It still feels like Christmas was last week and not coming up on Valentine's Day.  Time flies.
I did pretty well this week on taking photos that represent my daily highlights.  I did have two days where I had to really think outside the box and took random photos, but who cares I got the photos taken and have now completed 30 days of photos!  Only 335 photos to go to achieve my goal…
I do have to admit that I'm not looking forward to February arriving because the date will no longer correspond with the day.  Right now day 1 happened on January 1st, Day 2 on January 2nd.  Now I'm going to have to pay more attention to the day and date so I don't get all mixed up.  I'm certain that I will mess it up at some point, it's only a matter of time!
Photos from January 25 – 30th are found below:
For more information on this project please visit one of the hosts mentioned above or click the badge below!  Feel free to come and join us and our 365 day journey behind the camera lens!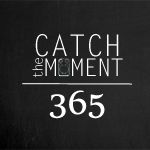 with Mindy at Simply Stavish, Sarah at Nurse Loves Farmer, and Stephanie at Behind the Camera and Dreaming.
How does this work?  Everyday I am posting a new pic to Instagram, Twitter and my personal Facebook page with the hash tags #365DaysofCori and the official challenge hash tag #catchthemoment365.  On Friday's I will do a recap of the previous week's photos and *hopefully* give a little more insight into the photos, why I took them and any history behind them.
Happy Friday!