Where has summer gone?  How is it already August 27th?  (Happy Golden Birthday by the way Erin!)
I started out the summer strong in the Lazy Crazy Days of Summer Photo Challenge hosted by my two FAVORITE Blogging Photographers, Alicia of Project Alicia and Kristi of Live and Love … Out Loud.  I think I successfully completed the first six weeks … give or take: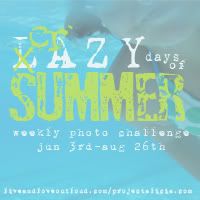 I was reading these ladies' blogs when I read that for the final week, they had a ton of amazing giveaways and prizes for the Lazy Crazy Days of Summer final submissions.  However, I felt a bit awkward linking up this week with all the pomp and circumstance going on, because I missed half of the weeks!!  Then Kristi started bugging me, asking where I'd been and that I HAD TO link-up this week.  I himmed and haw'd (sp??!); then finally gave in.  Okay so it didn't take that much prodding, but it took some!  Thanks Kristi!
I thought for this final submission I would share my favorite photos that I took over the summer.  Most of these have been shared already, but guess what … it's my blog and I'm sharing them again!
Happy last Lazy Crazy Days of Summer!!