{Cabo} Day 6
This weeks Crazy Days of Summer prompt once again comes from sunny Cabo San Lucas, Mexico with the theme of yellow.  This prompt just coincidently fit with the activity I was most looking forward to on this vacation … PARASAILING.  Coincidentally out parasail was a big giant YELLOW happy face, perfect for this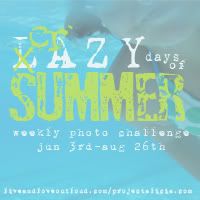 The first group to go was my mom and sister Kelly.  While they were inflight Alex & I sat in the boat with the rest of our family who had chickened out, waiting for it to be our turn to fly!
Upon return to the boat, our Aunt Sharon had chickened out on going, so we had paid for an extra flight.  Kelly, who doesn't do well in boats at all, decided she'd go again, because it probably was safer for her IN THE AIR the ON THE BOAT!
Kelly was fine until about 30 seconds after we left the boat, when she started to feel sick.  That immediately kicked me into nausea mode and we both were sick in the first minute.  Poor Alex was stuck between us and we both were NOT HAPPY.  She tried her hardest to get the boat's attention, but we were to far away, her waving to them looked like she was waving "we're having a blast!" and not "SOS!"  We finally got Alex to stop waving, because clearly that wasn't working and eventually they lowered us back to the boat. 
Instead of a nice calm boat landing, the people piloting the boat thought it would be funny to land us IN THE WATER.  That was the highlight for me.  I was at the point of trying to figure out where the best place to vomit was without the wind spraying it all over the three of us.  After our water landing, they started to send us back up – until we started screaming NOOOOO and my mom recognized the motion sickness face known all to well of Kelly & I
My mom quickly told the guys to land us and let us get down.  I've never been so happy to be back on the boat in my life!
Was it scary?  No, for me it wasn't.  I don't have a fear of heights and the views were breathtaking!
So what made me sick?  Parasailing is just like riding the swings at the fair – similar motion.  I cannot ride the swings without getting nauseous and apparently I can't parasail either! 
Would I do it again?  Yes, after I'd taken a full dose of Dramamine, I would do it again!  I lived to tell about it and would highly recommend it to everyone to give it a try!!  I just suggest you take Dramamine before you fly