Two of my favorite blogging photographers, Live and Love Outloud and Project Alicia, are teaming up together to host a new summertime meme: Lazy Crazy Days of Summer!  I'm slow in participating this week, darn finals are getting in the way, however I promised Kristi & Alicia that I would make sure I linked up and joined in the fun!  So my post is way late, but better late then never!  I promise to do better this week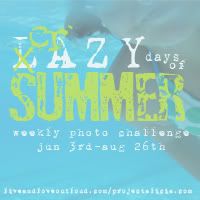 This week's theme was flowers and I'm fudging it it a bit, the photos I'm including for this week are more of landscape shots!  I have been meaning to post more pictures from my Idaho trip and thought this would be the perfect time to post these!
These photos were taken on the farm that belonged to my mom's aunt and uncle!  I'm not a country girl at all, but aren't the views gorgeous??  It was so peaceful, serene and beautiful at their home!