I was so excited when Jackie of, With Just a Bit of Magic, tweeted me and ask if I'd be willing to guest post on her blog this week.  I quickly responded with heck ya!  Even better, her guest post came with a loose prompt, making it that much easier to write!!
               My Prompt: The most useful/useless piece of information you could give kid(s) at any age.
I immediately thought about my baby sister Alex starting college soon, and the advice I've shared with her over her high school years!!  Hop over to Jackie's blog and see what I had to say!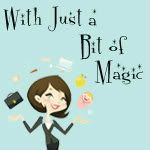 Thanks so much Jackie for allowing me the chance to write on your fabulous blog!!!
If you missed Jackie's post on my blog about, Twitter Etiquette this past February, you must click over and see what she has to say!
–
[Edited 4/27/2011 to add a copied post]