Those of you who follow me on twitter (@cori_shelley), you know that I made an unexpected trip to the Childrens ER to help my cousin Jaime, with her 2 year old Emmalee.  They thought Emmalee might have twisted intestines, which would mean immediate emergency surgery, however luckily after a number of tests, x-rays and IV's she was sent home with the diagnosis of a nasty stomach virus. 
In typical evil-Cori fashion, I took photos of the baby in the hospital!  Don't worry, Jaime made me wait until Emmalee was looking and feeling better…so I'm not totally evil!  Those photos will be up this weekend, I have to say she looked pretty cute with her baby hospital gown attached to her IV stand..like I said, I'm evil!  So stay tuned for those.
Since I spent the balance of my evening at the hospital, I didn't get a blog post ready…luckily I remembered an old favorite meme, 5 Question Friday, which I haven't linked up with in a very long time.  Thought this would be the perfect day to link-up again!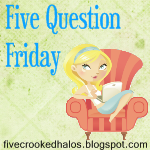 1. If you had $1,000 to donate to a charity, which would you choose?
This is an easy question, but I would split it between two different charity's.  The first being Hopelink, which is local agency who has a number of programs designed to help families in crisis make progress towards self-sufficiency and get off their feet.  My mom has been a director of Hopelink, for 18 years, so it has been an important part of my life forever!  
The second charity, I would donate to would be the March of Dimes.   The March of Dimes is also near and dear to my heart.  I've worked with a number of premies during my career, and I have seen how the March of Dimes has helped them and other families in need.  I've had the honor of participating in National Premie Awareness Day the last two years by writing a blog post about it.  You can read about my 2009 entry HERE, and the 2010 entry HERE.
2. Snow days: Do you welcome them happily or are they a pain in your butt?
I have a love-hate relationship with snow.  I LOVE it if I don't have to go anywhere and can stay home and enjoy it, don't love it if I have plans and have to go out in it!  I also, only love snow for a few days, as long as it doesn't stay for days and weeks on end!!
3. What talent did you wish you had and why?
I wish I had the talent for STUDYING!  I hate studying and quite frankly don't really know how.  This is what has hurt me during my college years.  I'm learning, but wish it came naturally for me!
4. Are you a news, politics or celebrity gossip junkie?
I'm definitely a CELEBRITY GOSSIP junkie!!  I live off of the gossip and lives of celebrities!  I subscribe to the magazines, have the apps on my phone and always hit up the sites to see what's going on in the world of celebrities!
5. What is your favorite "cocktail"? (Are you a beer person, a kiddie cocktail junkie, or perhaps your more the "Cosmo" kind?! Anything flies…doesn't hafta be alcoholic!)
I don't drink, so definitely non-alcoholic, but my favorite non-alcoholic "cocktails" would be, daquiri's and Shirley Temple's!  Yummmy!  However, I mostly find myself drinking juice or sprite!
Happy Friday!!