Congratulations to Our Winner …. ASHLEY!!
Click HERE to see the official winner being announced!
- Who doesn't love little girls in adorable bows?
- Love your little girl to be dressed to the T?
- Are you tired of paying an arm and a leg for cute hair bows? 
 Well if so, Blue Eyed Blessings is for you!  I'm so excited to announce my newest endeveour with my "other mother" Julia….we're going into the bow making business!!
How stinkin' cute are those hair bows!!
Julia currently has over 20 bows for sale on Blue Eyed Blessings for sale, and she's adding more just about every day, all between $2.00 – $4.00! 
All ribbon is heat sealed to prevent fraying and the bow is attached to a partially lined alligator clip.
Below are a few of my favorites that she currently has up for sale!  *MORE  BOWS AVAILABLE HERE*
Pink Zebra Botique Bow
Sassy Hot Pink and Brown Boutique Hair Bow
Pink and Green Multi Layered Boutique Bow
Bright and Sassy Pink and Green Butterfly Bow
Not feelin' the bows currently for sale (I don't know how that's possible, but just in case…) she even will do CUSTOM ORDER bows!  Where you can pick the color, size, design, etc.  Perfect to get that final touch for the Holiday's that are upcoming!  You cannot go wrong with a custom bow(s)!
Blue Eyed Blessings not only has bows for sale, but also bow holders, perfect for keeping your bows in one easy to spot place!!
All bow holders are hand painted, with premium acryllic paint and sealed with a shiny gloss finish! If it gets dirty, simply wipe it off with a damp towel. All ribbons used on the bow holders have been heat sealed to prevent fraying….even the ends you will never see! The hanging ribbons are securely fastened to the back of the holder, so little hands can not pull them off.
Beautiful Hand Painted Hair Bow Holder *pick your letter!*
Personalized Adorable Lady Bug Hair Bow Holder – Add your photo!
So, now that I have you all drooling over the beautiful bows and bow holders, I'm excited to announce a new giveaway!!  Blue Eyed Bows has graciously offered to giveaway 2 bows of your choice, from her Etsy store to Cori's Big Mouth readers!
—-   
Giveaway:
How to enter….it's very easy, read and follow the instructions below for entries. Don't forget to leave your email address too!!
If it says 1 entry, you leave 1 comment. If it says 2 entries, you leave 2 separate comments.
Mandatory Entry

:

This is the only mandatory entry. You MUST do this entry first, before you enter with the additional entries!

Go to the Blue Eyed Blessings store and leave a comment telling me which bow you like the most and why!!
Additional Entries:
1. Follow Cori's Big Mouth with Google Friend Connect (GFC). [1 entry]
2. Like Cori's Big Mouth on Facebook [2 entries]
3. Like Blue Eyed Blessings on Facebook and write on their wall that you're stopping by from Cori's Big Mouth's Blue Eyed Blessings Bow Giveaway [2 entries]
4. Follow Cori's Big Mouth/@cori_shelley on Twitter [2 entries]
5. Follow Blue Eyed Blessings on Twitter (@BlueEyedBows) [2 entries]
6. Tweet the following message daily, leave the link to the tweet in your comment [1 entry/day]
" #Win 2 Beautiful Girlie Bows from @BlueEyedBlessings & @cori_shelley at http://tinyurl.com/3yc8hr9
USA #Giveaway Ends 11/30 "
7. Grab the Cori's Big Mouth button (right side of the blog) and add it to the main page of your blog. Leave the link to your blog, where the button appears in your comment [3 entries]
8. Grab the Blue Eyed Blessings (below) and add it to the main page of your blog. Leave the link to your blog, where the button appears in your comment [3 entries]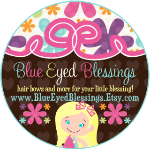 9. Purchase something from the Blue Eyed Blessings store [1 entry + I will add 9 more entries once I confirm the purchase]
*If you purchase leave a comment.  Once I verify with Julia of the purchase, I will add your additional 9 entries*
10. Blog about this giveaway and leave the link in the comment [5 entries]
Giveaway will end on November 30th at 11:59pm PST. Open to readers in the US Only. I will choose 1 winner via Random.org and the winners will be posted on my blog along with an email sent to them. The winners will have 48 hours to reply to me. If I don't receive a response within 48 hours, I will choose another winner. **Please remember to leave your email address so I can contact you if you win.**